Take a peek at
our portfolio
Point of Sale Printing
All businesses realise the importance of creating a good impression, and having eye catching Point of Sale material helps do just that. This helps generate and sustain sales, especially for those who are in very competitive markets.
At Horton Print we have a range of customers who require our Point of Sale expertise. Deadlines are always hit with campaigns not normally signed off until the last minute, in case of any changes. The Point of Sale market is a very exciting aspect of Horton Print Group.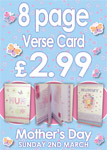 Click here to view this Point of Sale
The Birthday Cards (Case Study)
The Birthday Card Stores is one of the largest UK retailers, selling cards for all occasions. They have branches spanning the UK and we have worked closely with The Horton Print Group for several years.
Not only are they always delighted with our design work and the quality of the print, but also with the speed and reliability of the logistics. We have to make sure all the Point of Sale is delivered to all the branches of Birthday throughout the UK.
We have replaced our Kodak Plate Processor Unit with a CP85 gum/cleanout unit as our CTP now runs with processless plates. Therefore making the whole print process more accurate as we have removed a stage of processing which has made Horton Print a more environmentally friendly company...
Welcome to our new website which we hope you find informative and useful. Although we are a traditional printers, we fully understand the importance of having an up to date website, to help us as a company continually...click to read more
Our Customers Say...
"I have used Horton Print for over 15 years and I have always found their service quick, easy, friendly, competitive but most of all the end product excellent. From start to finish whether it be an annual report or a small leaflet run I always get 100% from Horton Print every job, every time."
Paul Brown
Medical Illustration
NHS Bradford