Take a peek at
our portfolio
Leaflet Printing
Our design team can assist with the final touches or design your leaflet to use for a marketing campaign. We will follow your brief and produce A4, A5 or A6 leaflets to portray your company in a professional manner.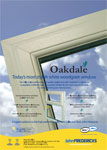 Click here to view this Leaflet
As an installer of windows, doors and conservatories, John Fredericks Plastics know better than most that success is all about offering just that little bit more than their competitors.
They have created the 'Ultimate Collection'. These are products that are genuinely superior in terms of technology, design and manufacturing quality, they are backed by a whole support, service and marketing package that is the best in the industry.
The 'Ultimate Collection' is the culmination of what John Fredericks has been doing in the world of PVC for over 25 years.
It is the result of an absolute, on going commitment to excellence, customer service and the delivery of total value for money.
With the introduction of this range, The Horton Print Group was approached by John Fredericks Plastics to design and print a new range of sales literature. The Oakdale window leaflet was very successful as its simplicity appealed to all.
We have replaced our Kodak Plate Processor Unit with a CP85 gum/cleanout unit as our CTP now runs with processless plates. Therefore making the whole print process more accurate as we have removed a stage of processing which has made Horton Print a more environmentally friendly company...
Welcome to our new website which we hope you find informative and useful. Although we are a traditional printers, we fully understand the importance of having an up to date website, to help us as a company continually...click to read more
Our Customers Say...
"I have used Horton Print for over 15 years and I have always found their service quick, easy, friendly, competitive but most of all the end product excellent. From start to finish whether it be an annual report or a small leaflet run I always get 100% from Horton Print every job, every time."
Paul Brown
Medical Illustration
NHS Bradford